Zoom Player Home MAX v7.00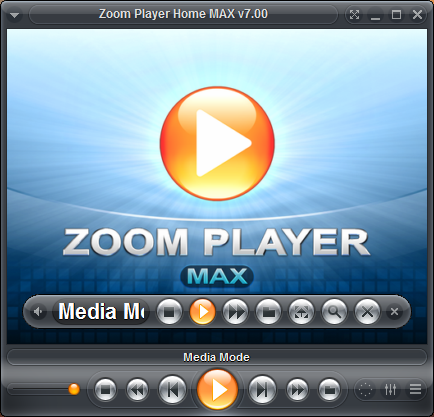 Zoom Player was originally conceived to fill a void in Multimedia playback. Prior to Zoom Player, playing media files on the PC was either overly simplistic for the Power User or overly cryptic to the common user. Zoom Player tries to both simplify the playback experience for the common user, while giving the Power Users all the tools and interfaces they may require to manipulate their playback environment to their exact specification.
To that end, Zoom Player employs a slick and simple user interface, combined with easy to access features while at the same time providing advanced control dialogs over every feature imaginable.
Zoom Player was designed from the ground up to load quick, take as little system resources as possible, provide user feedback/direction as appropriate and maintain as much isolation from other applications and system components as not to undermine overall stability.
Why buy Zoom Player Home MAX?
If you are a serious, no-compromise user looking for pure playback perfection, total control of your media files, the latest in video and audio processing technologies and the maximum flexibility in usage and configuration, then Home Edition Max is your choice!
Home Edition Max is the top tool that offers all available features of Professional and Premium models combined - and yet some more:
* The largest possible set of command-line options and parameters for any scenario,
* High level Interactivity with HTML environment,
* Modern interactivity with Flash based files,
* GuardDog mechanism for Auto-Restart function in case of a decoder lock-up,
* Many other pro-level tools and functions.
Zoom Player is the most Powerful, Flexible and Customizable DVD and Media Player for the Windows PC platform. Using our powerful Smart Play technology, more image, audio and video media formats play with less hassle, increased stability and better performance.
Supported Media Formats:
• Video:
DVD, AVI, QuickTime (MOV), XVID, DIVX, Windows Media (WMV/ASF), Flash Video (FLV), Flash (SWF), Cellphone 3GPP (3GP), Ogg Movie (OGM), Real Media (RM/RMVB), VideoCD (VCD), Super VideoCD (SVCD), MPEG (MPG), MPEG2 Program (M2V/VOB), MPEG2 Transport (TS/TP/TSP/TRP/M2T/PVA), MPEG4 (SP/ASP), MPEG4 AVC (H.264), MPEG4 ISO (MP4), Matroska (MKV), Media Center DVR (DVR-MS), VP3, VP6, Digital Video (DV), Motion JPEG (MJPEG), FLIC (FLI/FLC).
• Audio:
MP3, Windows Media (WMA), Advanced Audio Coding (AAC), OGG Vorbis (OGG), SHOUTcast (Streaming), Free Lossless Audio CODEC (FLAC), CD-Audio (CDA), Dolby Digital (AC3), Digital Theatre Surround (DTS), LPCM, Monkey Audio (APE), Real Media (RA), MusePack (MPC), OptimFROG (OFR), Shorten (SHN), True Audio (TTA), WavPack (WV), Apple Lossless Audio Coding (ALAC), MIDI, Matroska (MKA), Wave Audio (WAV), MO3, IT, XM, S3M, MTM, MOD, UMX.
• Image:
JPEG (JPG), PNG, GIF, BMP, ICO, WMF, EMF, JFIF, RLE, WIN, VST, VDA, TGA, ICB, TIFF, FAX, EPS, PCX, PCC, SCR, RPF, RLA, SGI, BW, PSD, PDD, PPM, PGM, PBM, CEL, PIC, PCD, CUT, PSP, PN.
• Interactive:
DVD, Flash (SWF), HTML.
Download Here